THE ORIGINAL Gem Rugs Since 2018
"Larger than life" –

Product Details
PRINTED TROPICAL FLORAL GEM PRINT ON VELVET 
FEATHER FILLED
LIMITED STOCK
Shop our printed tropical gem floral print velvet cushion. Lay some ART on your sofa! 
The Tropical floral gem print is hand painted and part of Wear the house signature prints from our archive floral collections.  The tropical floral print, features gem elements within the flowers. Our hand-painted designs strike the perfect balance between timeless and today, Deco velvet elegance, and a wink of 1960s style. In bright pinks, turquoise and cream base tones, these cushions are naturals for mixing and matching.
Our Tropical floral inspired pillows are a eclectic pop for any living space or bedroom. Each features our unique Wear The House design on its front and back.
All styles arrive stuffed with our luxurious feather fill and ready to serve.
Shipping and Delivery
Free shipping worldwide with FedEx. Guaranteed delivery and tracked straight to your door by Wear The House team.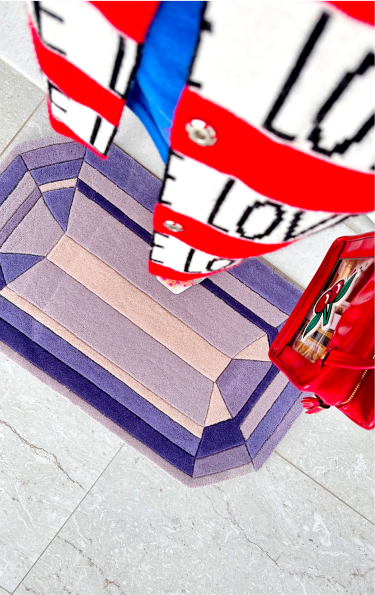 Need Help?
Frequently asked questions
WHEN CAN I EXPECT MY ORDER TO SHIP?
We begin processing your order as soon as it's placed! Items in stock will usually be shipped within 24 hours and delivered within 5-7 days.
In an effort to be kinder to our environment, some of our items are shipped separately, directly from their respective warehouses. Not only this, but some of our products have different lead times. Therefore, your items may arrive at different times, but we promise, it will be worth the wait!

Please note that Custom Rugs and other Made To Order products may have a longer lead time.

If you'd like an update on the progress of your order, please email us at info@wearthehouse.com
What if an item is out of stock?
We do our best to keep our products in stock, but they are selling fast and are LIMITED EDITION! If any of our products are out of stock, we offer the option to pre-order. If you see a product you like on the website that is out of stock, please email info@wearthehouse.com for more information on when the item will be available.
For items out of stock or Made To Order please expect a minimum production time of 4 weeks from date of order.
How can I track my order?
We'll send you an email to let you know when your order has been sent out and this will contain a link to track it. If you have any questions about when your order will arrive, please email info@wearthehouse.com
CAN YOU CANCEL MY ORDER?
We start processing orders shortly after they've been placed. If you need to cancel your order, please let us know ASAP by contacting us at info@wearthehouse.com to check if your order is eligible for cancellation. Being a small business, we work with various partners who help us store and ship our products for us. In some cases, your order may not be able to be cancelled if they're already in the process of shipping it out.
Can I return my order?
Yes, we have a 60 days no hassle returns policy. Please refer to our Returns Policy Page for more details.
This excludes non-returnable items such as Custom Rugs and other custom products which are made to order or made with bespoke measurements.
IS YOUR WEBSITE SECURE?
Absolutely, yes. On any page where you are asked to enter your address, phone number or credit card information, we use a secure server through Shopify that keeps your information safe. Just look for the little lock in your browser window.
WHICH METHODS OF PAYMENT DO YOU ACCEPT?
We accept ALL major payment methods including (but not limited to): Visa, MasterCard, American Express, PayPal, Shop Pay (pay in instalments), Apple Pay and Google Pay.
DO YOU HAVE A REWARDS PROGRAM?
At Wear The House it is our mission to build an amazing community of GEMS! However, we are a young company and right now are still going through the process of setting up our rewards program. Please sign-up to our newsletter to keep up to date on progress! Any questions, just email us at info@wearthehouse.com and we'll help you out!
DO YOU OFFER PROMOTIONS?
We offer welcome discounts, exclusive giveaways, announcements and more to our Wear The House newsletter subscribers! After you've signed up, please check your inbox/spam/junk folders for an email containing your Promotion Offer Code. Any questions? Email info@wearthehouse.com and we'll help you out!
DO YOU HAVE A TRADE PROGRAM?
We do! Please email david@wearthehouse.com with the following info, and we'll get you set up:
- Your business name
- A copy of your resale certificate & seller's permit
- The name(s) & email(s) of anyone who is eligible to use the discount from your team/business. You must be in our system in order for your code to work at checkout.
I HAVE ANOTHER QUESTION!
Have a questions about...
• Your order
• Product questions or suggestions
• Wear The House Newsletter (welcome discount)
• Wear The House Loyalty Program
• Trade Program
• Wholesale
• Competitions
• Technical issues
• Press?
To ask anything & get a quick, personal reply, email us at info@wearthehouse.com & we'll get back to you.
Featured In:







Perfect Jewels for Your Floor - Luxury
at Your Feet
100% New Zealand Wool.
Made-to-Order. Hand Tufted by Our Fair Trade Family-Owned Factory. Transform Any Space into a Work of Art with Exquisite One-of-a-Kind Gem Rugs. Free Worldwide Shipping. Unlock 10% Off 1st Order.